It is not an easy question to answer as cloth diapers are manageable while travelling but do pose some difficulties as far as convenience goes. While not impossible, the challenges get easier if you can find a comfortable plan. It is definitely not a yes or no answer as every mother and baby is different.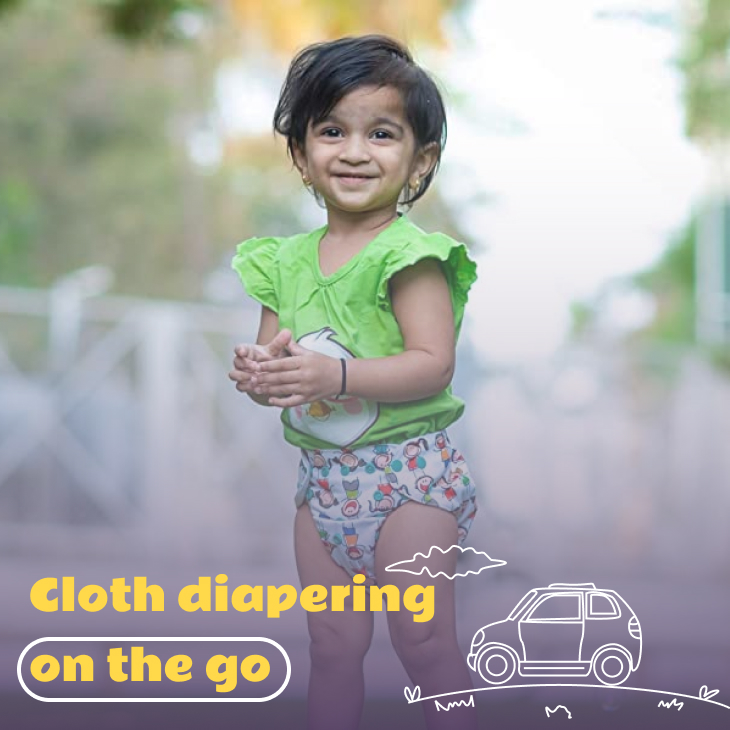 Travelling with only cloth diapers
Sounds impossible? In fact it is very doable. Carry a large stash of diapers and inserts. It is a good idea to carry a sizeable number if you flight or rail or road trip is long. It is important to carry a diaper pail or bag to keep dirty diapers too. A diaper changing mat is also a smart thing to carry. Although most places offer a diaper changing table, hygiene can be of questionable quality at some places. Also they may be used without a diaper changing table too! On the grass, on the car seat , anywhere!
Fig-o-honey pocket style diapers are super easy to use while on the go. Insert 2 or 3 pads in the pocket to ensure that there is a longer time between diaper changes, more like using a diaper overnight. Simply remove inserts and replace when you feel the need to change the diaper. It is a good idea to carry your diapers in two bags. One can be a small stash along with wet wipes. Most airports, aircrafts and trains now offer a diaper change tray or space comfortably.
How to make the journey easy with cloth diapers?
Most destinations in India are baby friendly. You can carry a few of Fig-o-honey diapers and about 20-25 inserts if you have access to a washer. You can actually wash every other day and get away with it. Just rinse the dirty diaper and drop into your wet bag for putting into the washer at a later time.
It might be more comfortable to carry two wet bags. Keep a small one along with the bag of diapers and wipes you carry with you when away from the hotel. Once this one is full just empty in to the bigger bag and proceed to wash as per schedule.
It is also a good option to prepare cloth inserts to use as a buffer. You might especially need them if you are travelling during the monsoon months or have a long way on the road or flight.
It is a good idea to carry a few disposables along with you, so that you have peace of mind. Although you might not need to use them, you might need them at a pinch. Using disposable inserts may be more comfortable if your baby is already weaned and eating solid foods. They might be easier to change and keep clean.
Cloth diapering may be daunting if you are trying it for the first time while travelling, but you will soon find the groove. It is quite comfortable. In fact in some vacation destinations, you might just find a hotel laundry that is happy to wash them for you.
Happy diapering!